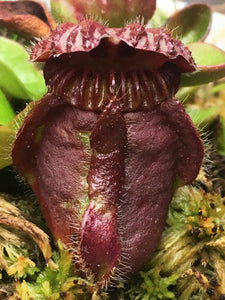 Cephalotus follicularis "German Giant"
Regular price
Sale price
$55.00
---
Cephalotus follicularis is truly one of the most spectacular carnivorous plant species, and is highly prized by carnivorous plant collectors around the world.
Native to Southwestern Australia, C. follicularis produces rosettes of tubby, thumb sized pitchers, famous for their spectacular toothy rim (peristome) as well as the unique transparent striping on the pitcher lids. Cephalotus is rare in cultivation and supply is very limited.  
Cephalotus follicularis "German Giant" is a rare clone, known for its giant sized pitchers and spectacular dark colouration.
Plants for sale are single growth-point divisons producing juvenile pitchers and non-carnivorous leaves. 
Cephs dislikes root disturbance so we ship our Cephalotus plants potted at no extra charge to ensure they arrive and stay healthy in their new home.
Very limited supply!
Cephalotus follicularis est vraiment l'une des espèces de plantes carnivores les plus spectaculaires. Elle est très prisée des collectionneurs de plantes carnivores du monde entier.
Originaire du sud-ouest de l'Australie, C. follicularis produit des rosettes en forme de pouce, fameuses pour leur spectaculaire ) ainsi que la bande transparente unique sur les couvercles des pichets. Le céphalotus est rare en culture et l'offre est très limitée.
Cephalotus follicularis "German Giant" est un clone rare, connu pour ses pichets de taille géante et sa coloration sombre spectaculaire.
Les plantes à vendre sont des divisons à un seul point de croissance produisant des pichets juvéniles et des feuilles non carnivores.
Cephs n'aime pas les perturbations des racines, nous expédions donc nos plantes de Cephalotus en pot, sans frais supplémentaires, pour qu'elles arrivent et restent en bonne santé dans leur nouvelle maison.
Offre très limitée!