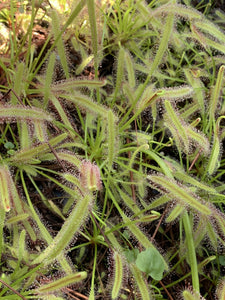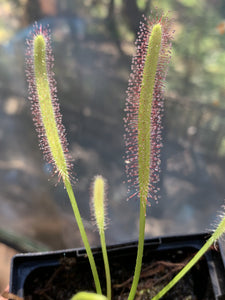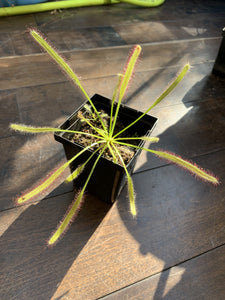 Drosera capensis (Cape Sundew) "Typical" Form
Regular price
Sale price
$18.50
---
Cape Sundews (Drosera capensis) are beautiful, showy, and very easy to care for! They produce tons of mesmerizing dewy leaves that fruit flies, gnats, and house flies find irresistible. When hungry, Cape Sundews will slowly curl there leaves around fresh prey, Drosera capensis "Typical" Form produces attractive pink flowers on a tall and showy stalk.
Cape Sundews are easy growers excelling under of a wide range of growing conditions. This plant is ideal for windowsill growing near kitchen composts or areas high in small flying insects pests.
They're striking beauty and ease of care make Drosera capensis a must for any collection and a perfect plant for new growers. D. capensis do not need any dormancy and happily grow all year round making it a perfect terrarium or windowsill carnivorous plant!
Medium size (~7.5cm/3" tall) plants reach flowering maturity within one to two growing seasons.
Large size (~13cm/5" tall) are flowering size.

Growing requirements
Mature size: 10-13 cm (4-5 inches) in diameter.
Light: Full to part sun, LED and florescent grow lights also produce excellent results.
Soil: Sundew Soil Mix or long-fiber sphagnum.
Water: Soil should be kept moist at all times, provide water that is low in salts and minerials such as rain or distilled water. In some areas tap water may be acceptable but should be under 50PPM (part per million). 
Feeding: Naturally caught insects, Dilute Max Sea fertilizer, or feeze-dried bloodworms every 2-3. We recommend using fetilizer only if you have experience growing carnivorous plants
Humidity: 50-90%
Temperature: 3 - 35° Celsius
Les Cape Sundew (Drosera capensis) sont belles, voyantes et très faciles à entretenir! Ils produisent des tonnes de feuilles de rosée envoûtantes que les mouches des fruits, les moucherons et les mouches domestiques trouvent irrésistibles.
Lorsqu'il a faim, le Sundews du Cap s'enroule lentement sur les feuilles des proies fraîches, la forme "typique" de Drosera capensis produit de jolies fleurs roses sur une tige haute et voyante.
Cape Sundews sont des cultivateurs faciles excellant dans un large éventail de conditions de croissance. Cette plante est idéale pour les rebords de fenêtres poussant près des composts de cuisine ou des zones riches en petits insectes nuisibles volants. Leur beauté saisissante et leur facilité d'entretien font de Drosera capensis un incontournable de toute collection et une plante parfaite pour les nouveaux cultivateurs. D. capensis n'a pas besoin de dormance et pousse avec bonheur toute l'année, ce qui en fait un terrarium parfait ou une plante carnivore de rebord de fenêtre!
Les plantes de taille moyenne (~ 7,5 cm / 3 "de hauteur) atteignent la maturité de floraison en une à deux saisons de croissance.
Les grandes tailles (~ 13 cm / 5 "de hauteur) sont de taille floraison.
Les plantes sont expédiées racines nues, les plantes peuvent être expédiées en pot moyennant des frais supplémentaires.

Des exigences croissantes
Taille adulte: 10-13 cm (4-5 pouces) de diamètre.
Lumière: le plein soleil, les LED et les lampes de culture fluorescentes produisent également d'excellents résultats.
Sol: Mélange de sol de droséra ou sphaigne à fibres longues.
Eau: Le sol doit être maintenu humide en tout temps, fournir une eau pauvre en sels et en minéraux tels que la pluie ou l'eau distillée. Dans certaines régions, l'eau du robinet peut être acceptable mais doit être inférieure à 50 PPM (partie par million).
Alimentation: Insectes capturés naturellement, engrais Diluer Max Sea ou vers de sang lyophilisés tous les 2-3. Nous vous recommandons d'utiliser de l'engrais uniquement si vous avez de l'expérience dans la culture de plantes carnivores
Humidité: 50-90%
Température: 3 - 35 ° Celsius