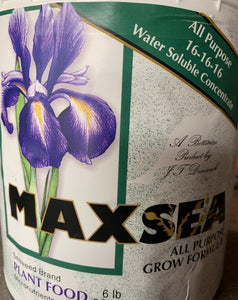 Maxsea Carnivorous Plant Fertilizer/Food (powder for 4 Liters/1 Gallon)
Regular price
Sale price
$5.75
---
We're offering bags of Maxsea Carnivorous Plant Fertilizer in powder form. These bags are pre-measured to make 4 Liters (1 gallon) of Carnivorous Plant safe fertilizer once mixed with low mineral or distilled water.
Maxsea is the premier fertilizer for carnivorous plants, this 16-16-16, kelp based fertilizer, produces fantastic growth and improved health when lightly misted or sprayed directly into pitchers every 3-4 weeks. Maxsea will also improve the growth and vigour of Sphagnum moss species as well.
A little goes a long way! We recommend not overfeeding. 
To make the liquid Maxsea fertilizer, simply mix the powdered concentrate with 4 Liters (1 gallon) of water, and pour the solution into a spray bottle. Mist plants lightly directly onto leaves and/or directly into pitchers/traps.
Avoid getting too much fertilizer on the soil media as this can cause algae growth and cause reduced production of traps.
Exposure to bright light can cause the Maxsea solution to turn green, the fertilizer is still good/safe to use if this happens but we recommend keeping your Maxsea solution away from direct light.
Nous proposons des sacs d'engrais pour plantes carnivores Maxsea sous forme de poudre. Ces sacs sont pré-mesurés pour produire 4 litres (1 gallon) d'engrais sans danger pour les plantes carnivores une fois mélangés avec de l'eau faiblement minérale ou distillée.
Maxsea est le premier engrais pour les plantes carnivores, cet engrais à base de varech 16-16-16, produit une croissance fantastique et une santé améliorée lorsqu'il est légèrement brumisé ou pulvérisé directement dans des pichets toutes les 3-4 semaines. Maxsea améliorera également la croissance et la vigueur des espèces de sphaigne.
Un peu va un long chemin! Nous recommandons de ne pas suralimenter.
Pour fabriquer l'engrais liquide Maxsea, mélangez simplement le concentré en poudre avec 4 litres (1 gallon) d'eau et versez la solution dans un flacon pulvérisateur. Vaporisez légèrement les plantes directement sur les feuilles et/ou directement dans des pichets/pièges.
Évitez de mettre trop d'engrais sur le sol car cela peut provoquer la croissance d'algues et réduire la production de pièges. L'exposition à une lumière vive peut faire virer la solution Maxsea au vert, l'engrais est toujours bon/sûr à utiliser si cela se produit, mais nous vous recommandons de garder votre solution Maxsea à l'abri de la lumière directe.