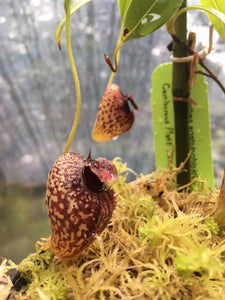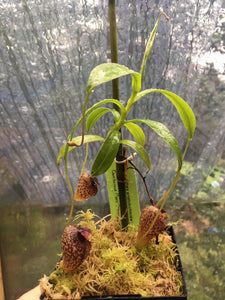 Nepenthes aristolochioides BE-3023
Regular price
Sale price
$250.00
---
Our favorite Nepenthes species and one of the most bizarre of all plants.
Nepenthes aristolochioides is highland species native to Sumatra, Indonesia. It's famous for it's totally unique and sophisticated pitchers that resemble translucent, red-speckled balloons. Unlike almost all other Nepenthes the pitchers peristome faces outward and is positioned horizontally on the front side of the pitcher producing a pronounced hunchback profile. The pitchers of N. aristolochioides have been found to utilize a sophisticated "false exit" light trap in which disoriented insect prey mistake the translucent interior as an escape route in juxtaposition to the darkly pigmented horizontal peristome and lid. If that wasn't enough N. aristolochioides also has extremely viscous (gooey) pitcher fluid that acts to literally glue prey to the interior of the pitcher.
Already extremely rare in the wild and in cultivation, we're offering the exceptionally scare BE-3023 Clone that is no longer offered by Borneo Exotics. The plants for sale are divisions from the original release of this clone more than a decade ago.
For the 2019 growing season we're offering for sale only a single LARGE, VINING N. aristolochioides. Plants of this size of this species are virtually unheard of for sale, combined with the scarcity of this clone this is an exceedingly rare opportunity.
Notre espèce préférée des Nepenthes et l'une des plantes les plus bizarres de toutes.
Nepenthes aristolochioides est une espèce des hautes terres originaire de Sumatra, en Indonésie. Elle est célèbre pour ses pichets uniques et sophistiqués qui ressemblent à des ballons translucides tachetés de rouge. À la différence de presque tous les autres Nepenthes, les pichets de péristome sont tournés vers l'extérieur et sont positionnés horizontalement à l'avant du pichet, ce qui leur confère un profil de bossu prononcé. On a découvert que les pichets de N. aristolochioides utilisaient un piège à lumière sophistiqué à "sortie fictive" dans lequel une proie désorientée prenait les proies comme une proie pour prendre l'espace translucide comme une échappatoire juxtaposant au péristome et au couvercle horizontalement pigmentés. Si cela ne suffisait pas, N. aristolochioides contient également un fluide extrêmement visqueux (visqueux) qui colle littéralement les proies à l'intérieur du pichet.
Déjà extrêmement rare à l'état sauvage et en culture, nous proposons le BE-3023, exceptionnellement effrayant. Clone qui n'est plus proposé par Borneo Exotics. Les plantes à vendre sont des divisions de la version originale de ce clone datant de plus de dix ans.
Pour la saison de croissance 2019, nous ne proposons à la vente qu'un seul GRAND, VINING N. aristolochioides. Les plantes de cette taille de cette espèce sont pratiquement inconnues à la vente. Combinée à la rareté de ce clone, il s'agit d'une opportunité extrêmement rare.