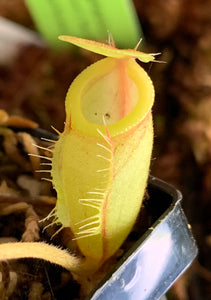 Nepenthes undulatifolia
Regular price
Sale price
$395.00
---
We're very excited to be able to offer what we think is one of the coolest new Nepenthes in quite some time.
Nepenthes undulatifolia is an incredibly rare, and totally unique botanical treasure. It's endemic to only two small mountain top populations in south eastern Sulawesi. While it shares some very interesting traits with several other Nepenthes species none are closely related or geographically close by. This species has so many terrific features and mysterious traits... undulating leaves, peltate leaf insertion, furry stems, toilet shaped upper pitchers, etc.
Although it's extremely rare in the wild we've found N. undulatifolia to be a vigorous and easy to grower when given proper highland conditions.
This plant will be the highlight of even the most distinguishing of collections!
Plants are individual/unique clones from seed (ISC).
Very limited supply!!!
Nous sommes très heureux de pouvoir offrir ce que nous pensons être l'un des nouveaux Nepenthes les plus cool depuis un certain temps.
Nepenthes undulatifolia est un trésor botanique incroyablement rare et totalement unique. Il est endémique à seulement deux petites populations au sommet des montagnes du sud-est de Sulawesi. Bien qu'il partage des traits très intéressants avec plusieurs autres espèces de Nepenthes, aucun n'est étroitement lié ou géographiquement proche. Cette espèce a tellement de caractéristiques formidables et de traits mystérieux... feuilles ondulées, insertion de feuilles peltées, tiges velues, pichets supérieurs en forme de toilette, etc.
Bien qu'il soit extrêmement rare à l'état sauvage, nous avons trouvé que N. undulatifolia est un cultivateur vigoureux et facile à cultiver dans des conditions de hautes terres appropriées.
Cette plante sera le point culminant des collections les plus distinguées !
Les plantes sont des clones individuels/uniques issus de graines (ISC).
Approvisionnement très limité !!!