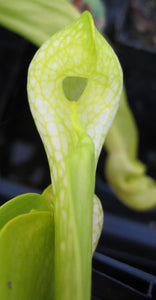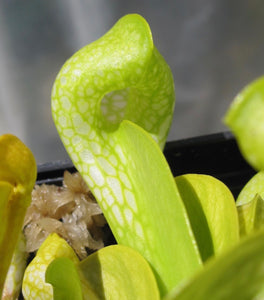 Sarracenia psittacina f. viridescens (Anthocyanin Free) All Green
Regular price
Sale price
$55.00
---
Sarracenia psittacina f. viridescens is the incredibly rare (Anthocyanin-free) or "All Green" form of one of the worlds most bizarre and amazing plant species. The entire plant glows a striking yellow/green colour beautifully offset beautifully by the delicate by sinister white fenestrations of the pitchers.
Sarracenia psittacina f. viridescens is truly an unbelievably beautiful plant which is extremely rare both in cultivation and in its native habitat.
S. psittacina also known as the parrot pitcher plant, is probably the most unusual of all the species of Sarracenia and features a completely different pitcher shape and trapping strategy. The pitcher opening is shaped like a tunnel and leads to an inflated globe shaped upper pitcher lined with fenestrations (transparent sections or "light windows"). These are thought to help lure prey towards the lower pitcher where they are trapped by coarse downward pointing hairs.
S. psittacina also makes a great terrarium plant as it only needs a very minimal dormancy period.
Mature single growth point plants for sale.
This plant will be shipped bare root wrapped in moss and securely packaged.
Sarracenia psittacina f. viridescens est la forme incroyablement rare (sans anthocyanine) ou "All Green" de l'une des espèces de plantes les plus bizarres et les plus incroyables du monde. L'ensemble de la plante brille d'une couleur jaune / verte frappante magnifiquement décalée magnifiquement par les délicates par sinistres fenêtres blanches des lanceurs.
Sarracenia psittacina f. viridescens est vraiment une plante incroyablement belle qui est extrêmement rare tant dans la culture que dans son habitat naturel.
S. psittacina également connu sous le nom de l'usine de lance-perroquets, est probablement la plus insolite de toutes les espèces de Sarracenia et présente une forme de pichet complètement différente et une stratégie de piégeage. L'ouverture du pichet est en forme de tunnel et conduit à un pichet supérieur gonflé en forme de globe doublé de fenestrations (sections transparentes ou "fenêtres légères"). Ceux-ci sont censés aider à attirer les proies vers le pichet inférieur où ils sont piégés par des cheveux grossiers vers le bas.
S. psittacina fait également une grande usine de terrarium car il n'a besoin que d'une période de dormance très minimale.
Plantes à croissance unique adultes à vendre.
Cette plante sera expédiée à la racine nue enveloppée dans de la mousse et emballée en toute sécurité.